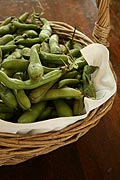 Victoria, and the Daylesford-Macedon region in particular is blessed with a diverse range of excellent produce, therefore at Sault we are committed to and emphasis the use of local produce on our menus.
What we grow and collect at Sault
Strawberries, blue berries, peaches, apples, black berries, sorell, Vietnamese mint, coriander, parsley, chives, leeks, globe artichokes, garlic, Jerusalem artichokes, 6 varieties of heirloom tomato, butternut squash, cucumber, broad beans, lemon verbena, rose geranium, sage, mint, oregano, rhubarb, thyme, rosemary, passionfruit, plums, elderberry, savoy cabbage, red cabbage, dill, tarragon and rainbow trout and yabbies from our lake.
The amazing regional produce that makes our menus what they are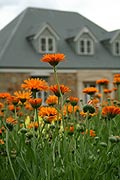 Istra Smallgoods
Maffra Cheeses
Merideth Dairy
Hopkins River Beef
Western Plains Free Range Pork
Kyneton Olive Oil
Holy Goat Cheeses
Naturipe Fruit Farm Baacus Marsh
Milawa Cheese Company
Newstead Bull boar sausages
Bendigo Poultry and Game
B&B Basil Bendigo
Shaw River Buffalo Cheese
Des O'Tooles Honey
Tuki Trout
Loddon Valley Cod
Lavandula
And all the lovely locals that supply us with fresh berries, figs and free range eggs.
Our regional suppliers
Tonnas Fruit and Vegetables – Daylesford
Spa Centre Meats – Daylesford
Central Victorian Providors – Castlemaine
Spa Venison – Daylesford
Angelica Organic Farm Lovingly grown, natural produce www.angelicaorganicfarm.com.au