Santi on Spanish TV
Congrats to our head chef Santi who was recently seen on a television show in Spain about his life in Australia.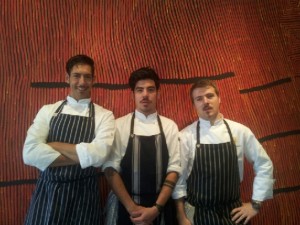 We are so proud of him and so glad he and his family chose Daylesford and to work at Sault.
It is such a great honour to have our awesome team of international guys Santi, Donato and Ray cooking up a storm.
Spoiler alert: Santi's summer menu is to die for…..coming soon.
Cheers and Merry Christmas to all our lovely regulars.
Summer menus at Sault
Our new Summer menus are now gracing our tables with some wonderful tapas and sumptuous meals for you to enjoy. Download the menus in the left sidebar and while you're here enjoy this little video showcase of Sault Restaurant.
Sault's super staff, dedicated to delivering exceptional cuisine and service!
Andy (we call him Percy)
Katie (work name Katie K)
Kate (Bonnano)
Damo (Damo)
Santiago (chef or Santi)
Raymond (Ronaldo…super quick)
Donatto (Super man or Doni)
Liam (LEE I AM)
Ruby (Tuesday)
Kate (cleaner extraordinaire)
Dave (Davey boy…Sault's gardener)
Helena (H)
Darren (awesome dish man)
Jodi (wedding planner)
Georgia (georgi)
Sault's High Tea
Sunday afternoons 2.30-4.30pm from 11th August onwards, bookings essential (03) 5348 6555
A lovely way to spend the afternoon by the fire enjoying delicious sweet bites and tea from the Australian tea masters Cartel's in Geelong. Sharyn Johnston certified tea master has made Sault a very special tea to be enjoyed by our customers. The tea will be brewed in our very own Samovar (Turkish tea maker) as seen in the photo. Guests will enjoy tea and mini éclairs, mini sweet tart's and mini quiche.
We look forward to seeing you all soon.
The Sault team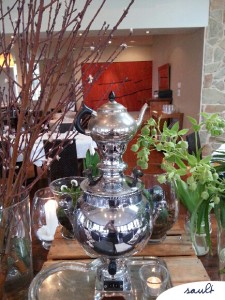 Wine Tour Packages Coming Soon
Daylesford Wine Tours and Sault will be commencing wine tour packages soon. For more information contact Sault or Clayton on (03) 5348 1823 or mobile 0402 218 232.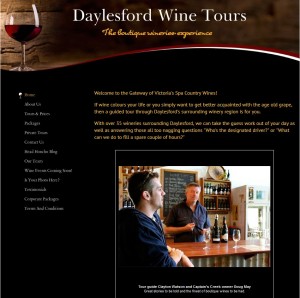 Daylesford Wine Tours website: http://www.daylesfordwinetours.com/
Santiago Nine-Fernandez (Spain)
Santiago has worked in some incredible restaurants all over the globe from London, Italy and Spain.
He has worked at Michelin star restaurants such as Alkimia in Barcelona Spain and Yauatcha in London as well as the highly acclaimed Tristan in Peurto Portals, Mallorca Spain.
His food has beauty, balance and is bursting with flavour.
Sault is very excited to welcome Santiago to its team, he has a very rare quality of calm about him and genuine love for what he creates which really translates onto the plate.
For bookings or further details, please call (03) 5348 6555, or email Sault