Check out this awesome video our head chef Santi made, just for you. It shows his amazing culinary talents putting together one of our delicious desserts.
Sault would like to thank and credit Santi for his amazing food and Shaun McKenna for his stunning photography.
Shaun is a regular at Sault with his wonderful wedding photography ShaunMcKenna.com for corporate work or Image eight for bridal work.
Enjoy!
Autumn menus – Our Autumn menus are not far off and will be gracing our tables soon… be sure to book and reserve your table.
The Sault Team
Santi on Spanish TV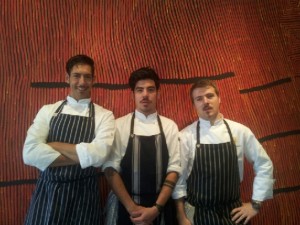 Congrats to our head chef Santi who was recently seen on a television show in Spain about his life in Australia.
We are so proud of him and so glad he and his family chose Daylesford and to work at Sault.
It is such a great honour to have our awesome team of international guys Santi, Donato and Ray cooking up a storm.
Sault of the Earth
Stirring memories of regional France, Sault is set against the backdrop of Wombat State Forest, overlooking our own lake amidst fields of lavender. Indulge yourself with exquisite modern cuisine prepared with the freshest of regional produce and washed down with the finest of local and international wines.
70 minutes from Melbourne, Sault provides the perfect launch for your gastronomic and indulgence weekend in the beautiful Victorian Spa Country.
Named after a lavender producing town north of Marseille, Sault is a fully functional Lavender farm producing sumptuous products to take home as a memento of your relaxing stop off.
Complement your meal with a walk around the lake or a casual game of Petanque on one of our 3 courses. Or merely sit back on our deck and let your thoughts wander amongst the Lavender allowing your recently consumed culinary delights to settle.
Hours of operation are dinner Wednesday from 6pm and brunch, lunch and dinner Friday, Saturday and Sunday 11am – late.
Winter Weddings at Sault in 2014
Winter Weddings at Sault are truly a very special experience. Pure Romance and perhaps a little snow.
Sault offers the perfect setting for a wonderful winter wedding, with its open fire vast sweeping views over the lake and sumptuous regional dishes.
We have a number of dates available in our 2014 winter calendar, are happy to discuss incentives for Winter Weddings.